The Fish exhibition has been hanging on the cream white walls of the Southside gallery since March 2nd. This is the third year Southside has featured a themed exhibit in which artists bring both representational and abstract renditions of the theme.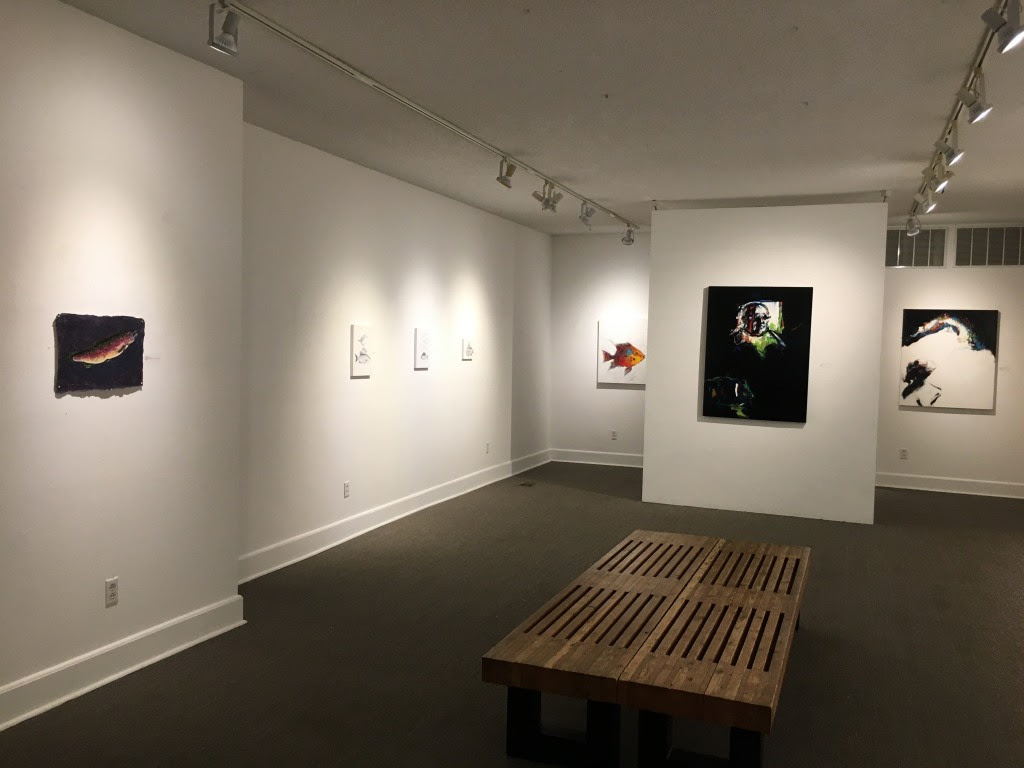 Photo by Grant McLaughlin
"It could even be something like, conceptual," said gallery curator, Will Cook. "So we had the floral show in 2019. Last year, it was birds. And one artist was like 'Well, what if I sent a, you know a picture of my middle finger,' and I was like, that would work,"
The reception for the exhibition was held on Friday, March 12th.
Photo by Grant McLaughlin
The artists in the exhibit range from UM faculty to artists coming from around the country with a variety of fish-related works they put into their works of art.
The artwork features both representational and abstract works from realistic renditions of fish on plates and boards, fish flopping over one another, to abstract portrayals of coral reefs and even the Pope alongside an angelfish.
Local artist Jere Allen described his painting of the pope and angelfish as a piece in which he sees them both as caretakers.
"I got the idea from when Pope Francis was made Pope, and when he came out onto the balcony, I sat in front of my TV and watched it. I think I probably took a thousand pictures looking for something, a gesture. In the end, I didn't use any of them. I used my interpretation of him with the angelfish," Allen said.
Brooke P. Alexander, a UM art instructor, is featured in the exhibit. Her art features green ponds and bodies of murky green shadows and tall grasses with a yellow tinge; koi fish swimming in a circle.
Alexander said she set up in a greenhouse and painted multiple different settings for her work currently hanging in the gallery.
"I don't usually paint fish, but I knew the theme before [Cook] asked me," She said. "So I worked some fish into it but I do a lot of spatial differences. I was able to work it in so that it's not too estranged from my normal work,"
Alexander also said her work was painted en Plein air, which is a French term for painting outdoors.
Emi Hayes, a third-year IMC major and photographer for Invitation Magazine, said that the art shows are unique because they bring people together.
"[The artists] all support each other," Hayes said.
This was also the first exhibition that the gallery hosted without major Covid-19 restrictions. Before, they would only allow 8 people in at a time in 30 minutes time frames. But now with the mask mandate being lifted as well as social distancing now up to local business owners, the gallery is starting to roll back some of these restrictions.
"We're kind of hoping by the next one, we won't need them at all," Cook said.
Cook also said the gallery's exhibits serve as both good business and an opportunity for their artists.
"Group exhibitions like this, the themed ones and the other group shows we do is a good opportunity for us to get exposure to some of the, you know, artists who people don't typically see here," Cook said.
The Fish exhibit will remain in the gallery until March 27th.